Nessy
biography
I'm more of a drawing artist/performance artist (theater) than a musician, but I occasionally create some techno tunes. I want to learn how to play the guitar and the drums, but unfortunately I still haven't got the time to do so. I also like to write lyrics once in a while.
In any case, you can find some of my art here:
http://miniowl.deviantart.com
1

December 1st, 2006 + 8:12 AM
·

Nessy
I know that there are plenty of good musicians here that are self taught, so, if you could, please tell me how should I begin self-learning the guitar, and, if possible, what kind of guitar should I buy/start with. I think I'll leave percussion (the drums) for later. If you know of a good site to check some music sheets for the guitar, that'd be lovely too. I had two years of music class, but all as been evaporated from my brain (I knew how to play the flute). I can't really remember how to read a music sheet (shame on me) but if I saw the basics, I think I'd remember. I'd love to know how to play, so if you have a spare minute to drop an advice or two to this girl here, I would love to hear.

Thnak you for you time, in advance, and please keep up with your awesome music, people.
Alias:
Nessy
Status: Offline
Threads: n/a
Posts:
10
Songs:
0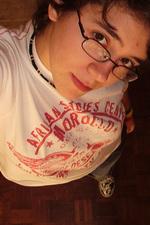 Joined: November 30th, 2006
Last login: December 23rd, 2006
My Messengers
| | |
| --- | --- |
| AIM: | chibiowlet |
| ICQ: | n/a |
| Skype: | n/a |